Introduction – This is a 2 part blog series on the topic 'Low-Code/No-Code Platforms'.
In the 1st part, we have focused on 'Low-Code / No-Code: The Future of Business App Development.'

And in the 2nd part we will be talking about some of the 'Best Low-Code / No-Code Development Platforms in 2023!'
For years, we have witnessed businesses opting for Application Development either by building Web and Mobile apps from external parties or building and customising them with the help of skilled developers.
Today, we are seeing a growing sophistication for Low-code and No-code Development Platforms that have the calibre to change the Web and Mobile Application Development game for users across various businesses!
You now don't have to know or rely on programming knowledge for creating an app for your business. With the help of No-code development platforms, you can simply drag and drop application features, connect them, and create a custom app on the go. In the case of Low-code, however, some knowledge of programming languages may be required for Application development.
You may have utilised the benefits of No-code solutions if you have played around or worked with Canva for graphic designing. As a matter of fact, it has made difficult areas that require a high level of programming skills easily available to general users.
In this blog, we'll help you understand how you can align your business with these Digital Transformation trends and make the most of the benefits of Low-code No-code Platforms.
What is Low Code Development?
Low-Code development enables professional developers or business users with limited knowledge of programming to quickly build Apps without having to write the code line by line. Instead of a technical coding environment, low-code is more operational in a drag-and-drop interface. Developers with different levels of skill can use low-code platforms to build enterprise applications. It is centred around the visual aspect of software application development and is popular based on the fact that it makes it a lot easier to create custom applications.
Zoho Creator, Hubspot CMS, Monday.com and Clickup are some of the best low-code platforms for developing innovative applications for your business. We will cover these tools in detail in our upcoming blog.
What is No-Code Development?
No-Code development is helpful for business owners who lack programming know-how and can build and test their Enterprise Apps with the help of this modern approach. They are mostly referred to as Citizen Developers who can build an App with little or no knowledge of programming language or machine code. The development work that goes behind the platform's components is also something they don't have to know a lot about. Be it for any business transformation effort, incorporating citizen developer solutions within a company requires a strong management and communication structure.
Mendix , Oracle Application Express , Wavemaker and Visual LANSA are a few examples of some of the best no-code platforms where you can develop innovative applications for your business without writing any code. We will cover these no-code tools in detail in our upcoming blog.
How is Low-code different from No-code?
IT Professionals with Programming language mostly lean towards Low-code development and leverage it to create complex applications. Business owners create enterprise apps without coding to meet their business goals.
Here is the list of features that will give you more clarity on the difference between Low-code and No-code Platforms:
Users
As discussed earlier, Low-code platforms are useful for software developers to build complex applications as they save on development cost and time, and No-code Platforms are more ideal for anyone, say Business owners, who wish to innovate and build applications to drive their business in a successful direction.
Apps
Business Apps can be built with the help of both Low-code and No-code platforms especially if they are meant for internal usage. Low-code is viable to create high-demand apps to handle important business operations, and developing applications using No-code is more ideal for addressing minor business problems on their own.
Training Requirements
Although no technical expertise is required for achieving attainable goals with No-code, Low-code on the contrary may require a certain amount of programming language to build complex tools and provide customisations to them accordingly. So, opportunities can be created to train employees when it comes to low-code.
Application Integration
You may want to integrate data from different platforms depending on what kind of app you have developed. Low-code platforms tend to have greater system integration adaptability as compared to No-code platforms. This is because when people create programs without adequate scrutiny, it results in security concerns, integration issues and possibly increased technological debt.
3 Ways Low-code/No-code Platforms can boost your Business's Digital Transformation Efforts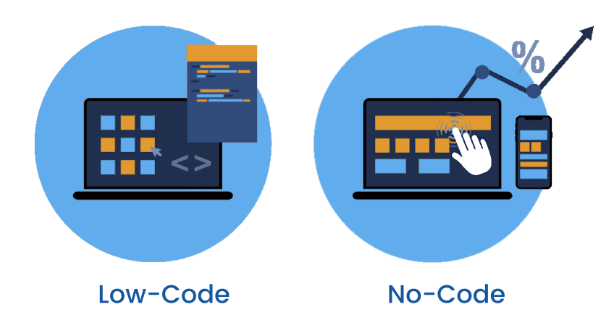 Low-code platform's essential features will not just give a major boost to your business's digital transformation but also improve its ownership of IT Solutions. A large number of companies around the world, regardless of the industry, are utilising low-code development platforms to render high-quality digital experiences and services.
Take a look at the 3 ways in which Low-code/No-code Platforms can boost your business's digital transformation efforts:
A Cost- Effective Approach to Building Apps Faster
Around 70% of new business applications will be developed with low-code/no-code platforms by 2025 [1]. Low-code development platforms have a visual design format and a friendly user interface rather than a coding syntax, which is useful for designers to contribute to the development process faster and more efficiently. It gets easier to save time and money on labour resources.
It gets even easier for professional developers to build and deliver apps faster with fewer bug issues. Low-code tools have pre-built libraries that maximise component reuse and accelerate the development process.
Ensures that your App is Fluid and Scalable
Your customers may expect a more personalised experience from your app. Low-code platforms have flexible designs that will help improve customer experience in a significant way.
Let us take an example of a retail environment, where we need to rapidly implement new operation models and cost structures, and implementing such changes are especially important when we are dealing with seasonal changes.
For a better consumer experience, Low-code tools and its essential features are effective in building applications that facilitate order fulfilment, slash order deliveries from weeks to days (or even hours), issue real-time updates, and ensure delivery that are driven by user feedback.
Your Business Operations are Streamlined
Companies are gearing up to transform their businesses to generate more revenue in the ongoing digital era.
Low-code platforms' advanced features can automate complex business processes with the help of a drag and drop modelling approach that will allow us to build from existing data and applications.
Security features are already built in Low-code tools which makes it reliable and secure for carrying out internal operations across different industries, ranging from Fintech to Healthcare that tend to have critical infrastructure and sensitive data assets.
Conclusion
Low-code/No-code platforms definitely have their own place in the world of software development. Moreover, these technologies are also actively revolutionising businesses and helping them stay ahead of the competition to meet the current market demands. It becomes necessary for almost every organisation to equip themselves with system development talent.
As per Gartner [2], they are expected to dominate the market in a few years, so not reaping the benefits of these approaches could lead to a major missed opportunity for an enterprise.
It doesn't necessarily mean Low-code/No-Code development platforms are going to completely replace the need for traditional coders. Relying on them for all your application development needs could be risky, no matter how useful the platforms are.
Low-code/No-Code Platform has proven to be a game-changing technology in the field of business application development, it is one of the most popular modern approaches taken up by a large number of businesses across the globe and will only continue to increase in the near future. So prioritise your digital transformation efforts towards building and designing solutions that will drive unprecedented value for your business!
Also Read: Best Low-Code / No-Code Development Platforms- 2023!